St. Monica's Parish
All are welcome in this place!
Our Mission
Sent Forth to Proclaim and Live God's Mercy
Adult Faith Education Program
St. Monica's Adult Education
In the Heart of the World
Nothing is far from God
The Feast of St. Monica - August 27
We at St. Monica's understand that our commitment to the Catholic social mission must be rooted in and strengthened by our spiritual lives. In our relationship with God we experience the conversion of heart that is necessary to truly love one another as God has loved us.
As members of a Christian community, Pastoral Home Care Volunteers strive to become a compassionate presence to the sick and elderly.
The Community Food Pantry is committed to bringing hope, compassion and assistance to those low income individuals and families living within our parish area. We strive to promote the human dignity of all those in need...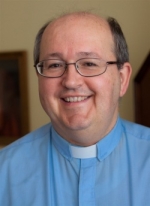 Things are starting up in a big way at St. Monica's! Two weeks ago, Brent Walker led an inspiring retreat day, inviting us to embrace our mission to live as "people of the Way." Last weekend, we began a new year of Faith First, welcoming back the children, sharing with the whole community the many ways in which we as adults can grow and deepen our faith through the coming year.
Continue Reading
Pastor's Corner Archives...
I invite you all to read the letter written by the Most Reverend Paul-André Durocher, Archbishop of Gatineau and President of the Canadian Conference of Catholic Bishops, on how all the members of the Church can respond to the refugee crisis.

When a man and a woman marry in the Lord, they participate in the missionary life of the Church, by living not only for themselves or their own family, but for all people…Therefore the life of the Church is enriched through every marriage which shows forth this beauty, and is impoverished when marriage is disfigured in any way.
Pope Francis