St. Monica's Parish
All are welcome in this place!
Transformed by the Holy Spirit
St. Monica's Adult Faith Education
Discerning The Spirit at Work In Our Common History
St. Monica's Adult Faith Education
St. Monica's is an English speaking Roman Catholic parish serving the central Notre-Dame-de-Grace (NDG) area of Montreal, Quebec.
Come and join us next Sunday, December 4th at 3:00 pm, for a wonderful afternoon of Christmas cheer and jazz. St. Monica's parish is proud to present Guffman 5 who will perform a benefit concert
A Jazzy Little Christmas
Refreshments and good tidings will be shared following the concert.
Tickets are $20 and are on sale now after all Masses or at the Parish office.​
We at St. Monica's understand that our commitment to the Catholic social mission must be rooted in and strengthened by our spiritual lives. In our relationship with God we experience the conversion of heart that is necessary to truly love one another as God has loved us.
As members of a Christian community, Pastoral Home Care Volunteers strive to become a compassionate presence to the sick and elderly.
The Community Food Pantry is committed to bringing hope, compassion and assistance to those low income individuals and families living within our parish area. We strive to promote the human dignity of all those in need...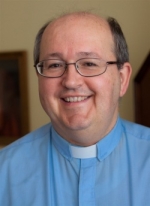 You may have noticed last Sunday the banner placed over the altar, with a single word to help us focus our meditation. Last week's call to VIGILANCE is succeeded this week by an invitation to HOPE. Hope, as we know, is much more than pie-in-the-sky optimism. It is the conviction that even when the night seems dark and cold, the dawn is near: we are not alone, and God will never abandon us. God hears and answers us.
Continue Reading
Pastor's Corner Archives...

I would like to enter into dialogue with all people about our common home.
Laudato Si - Pope Francis