St. Monica's Parish
All are welcome in this place!
John Reilly - Miraculous Draught of Fishes
Third Sunday of Easter
Easter
El Greco - The Resurrection
Truly He is Risen! Alleluia!
Christ is Risen! Alleluia!
Good Friday
Marc Chagall
White Crucifiction
Father, into your hands I commend my spirit.
St. Monica's is an English speaking Roman Catholic parish serving the central Notre-Dame-de-Grace (NDG) area of Montreal, Quebec.
Parish Pilgrimage
Secretary Position Available
St. Monica's Parish is seeking a full-time parish secretary with experience in secretarial work and office administration. The work involves ensuring the smooth running of day to day activities, working with the pastoral team and parish volunteers. Attention to detail is required to produce the weekly bulletin, liturgy, and other official documentation.
The details of the requirements and qualifications are found here.
Please send your CV to St. Monica's Parish, 6405 Terrebonne St., Montreal H4B 1A8 or email it to st-monica@videotron.ca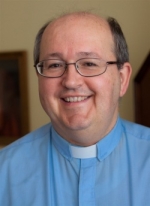 In our Christian Heritage we have many "ecological saints". Beginning with Paul of Tarsus (567A.D.) to Kateri Tekakwitha (1656-1680) the Patron Saint of Ecology. It was in the forest among the trees and the silence that the Great Spirit spoke to her heart. All of nature spoke to her of the Creator. Being in harmony with all of creation was a value she learned among the Aboriginal people.

Continue Reading
Pastor's Corner Archives...

Peace on earth to men and women of goodwill, who work quietly and patiently each day, in their families and in society, to build a more humane and just world, sustained by the conviction that only with peace is there the possibility of a more prosperous future for all.
Pope Francis - Urbi et Orbi 2016