St. Monica's Parish
All are welcome in this place!
Hope is a light,
Hope is light to show the way.
Peace is a prayer,
Peace is a prayer that starts with me.
Joy is a song,
Joy is a song for all to sing.
Love is a gift,
Love is a gift our hearts can give.
Lord, every nation on earth will adore you
On Holy Ground
Encountering the God Who Is "All in All"
St. Monica's is an English speaking Roman Catholic parish serving the central Notre-Dame-de-Grace (NDG) area of Montreal, Quebec.
Featured Event: Catholicism: The Pivotal Players - Part II
---
We at St. Monica's understand that our commitment to the Catholic social mission must be rooted in and strengthened by our spiritual lives. In our relationship with God we experience the conversion of heart that is necessary to truly love one another as God has loved us.
As members of a Christian community, Pastoral Home Care Volunteers strive to become a compassionate presence to the sick and elderly.
The Community Food Pantry is committed to bringing hope, compassion and assistance to those low income individuals and families living within our parish area. We strive to promote the human dignity of all those in need...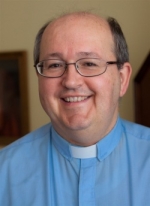 Indeed, the gift of unconditional love is difficult for us to conceive.  Yet this is exactly what is offered to us each year at Christmas.  In the mystery of the Incarnation, God embraces our humanity, takes on our very flesh in Jesus.   This may literally sound "too good to be true."  Yet true it is.  In our darkness, our fear, our disappointments, God comes close to us. 
Continue Reading
Pastor's Corner Archives...

Peace on earth to men and women of goodwill, who work quietly and patiently each day, in their families and in society, to build a more humane and just world, sustained by the conviction that only with peace is there the possibility of a more prosperous future for all.
Pope Francis - Urbi et Orbi 2016