St. Monica's Parish
All are welcome in this place!
Discover the Glory of God
Text
Where is the one who has been born king of the Jews? We saw his star when it rose and have come to worship him.
For a child will be born to us...
...and His name will be called Wonderful Counselor, Mighty God, Eternal Father, Prince of Peace.
Blessed is she who has believed that the Lord would fulfill his promises to her!
...you will conceive in your womb and bear a son, and you shall call his name Jesus.
Transformed by the Holy Spirit
St. Monica's Adult Faith Education
Discerning The Spirit at Work In Our Common History
St. Monica's Adult Faith Education
We at St. Monica's understand that our commitment to the Catholic social mission must be rooted in and strengthened by our spiritual lives. In our relationship with God we experience the conversion of heart that is necessary to truly love one another as God has loved us.
As members of a Christian community, Pastoral Home Care Volunteers strive to become a compassionate presence to the sick and elderly.
The Community Food Pantry is committed to bringing hope, compassion and assistance to those low income individuals and families living within our parish area. We strive to promote the human dignity of all those in need...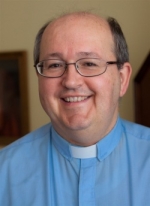 As we begin a new year, many of us may be facing transitions of various kinds. With my new ministry at the diocese, this is certainly the case for me! It's very easy to lose our equilibrium in times of transition: our sense of who we are, where we belong, where God is to be found. How do we negotiate transition? How do we deal with change? Do we deny it, try to forestall it as long as possible? Do we cling stubbornly to the status quo?
Continue Reading
Pastor's Corner Archives...

Peace on earth to men and women of goodwill, who work quietly and patiently each day, in their families and in society, to build a more humane and just world, sustained by the conviction that only with peace is there the possibility of a more prosperous future for all.
Pope Francis - Urbi et Orbi 2016