Marriage Guidelines
So you've decided to get married?  Congratulations!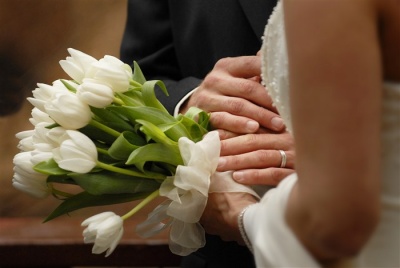 It is a big commitment, but a real blessing – to you both, to your families and friends, and to our Church and our society. If you would like to have your union blessed by the Church in the Sacrament of Marriage here at St. Monica's, we ask you to: 
Please give us as much notice as possible, to ensure the availability of the date and adequate time for the paperwork and marriage preparation.  We recommend a full year – minimum of six months.
Please note that there are no weddings on Sundays, and that the last wedding time on Saturday is 2 p.m. because we have a parish 4 p.m. Mass.
Please call the parish (514-481-0267) – or better still, come to one of our weekend Masses in person – and make an appointment to see Fr. Raymond.  We think it's important, before finalizing any plans, to get acquainted and to ensure that there are no obstacles (e.g. the existence of a previous marriage) to the marriage.
 At least one of you must be a baptized and confirmed Roman Catholic.   It is possible to marry someone belonging to another Christian denomination, and with the proper dispensation, someone of a different (or no) faith tradition.  Please mention this to the priest at the first meeting and he will explain what is involved in the marriage preparation.
If you do not live in the boundaries of the parish, you may need to get a signed document from your own parish priest granting you permission to marry here.  (This is especially true if you live outside the diocese of Montreal.)
According to diocesan norms, all couples must register in a diocesan approved marriage preparation course. The Family Life Office at the diocese proposes From This Day Forward. You may also register for an Engaged Encounter weekend
The usual donation for a wedding here at St. Monica's is $400.  This includes all fees connected to the church, but not the marriage preparation courses or for any singers/ musicians you may be engaging for the ceremony.